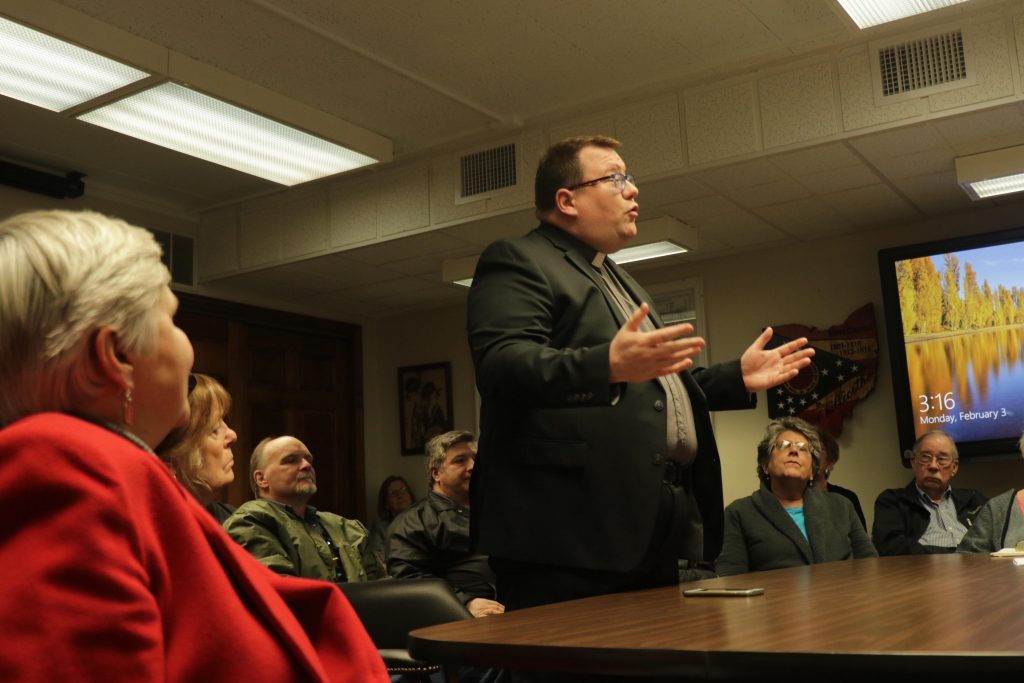 A full house of local citizens attended a county meeting on Monday to discuss the possibility of becoming a "Second Amendment Sanctuary" county.
It happened in Ross County at around 3 p.m. while the County Commissioners met for their weekly meeting.
Numerous people spoke out in opposition to a resolution where the commission would publicly grandstand by signing a piece of paper saying they oppose "an infringement on the Second Amendment." Approximately 10 counties in Ohio have signed similar resolutions. The fiery uptick in the legislation passage around the Buckeye State stems primarily from heated rhetoric by self-proclaimed gun advocates who say that the government is "coming for [their] guns." Despite such a claim, no apparent laws have passed or are even up for consideration by the statehouse that would limit the Second Amendment.
"The reality is, Larry Housholder [Speaker of Ohio House], is not going to let any legislation go through that doesn't mesh with the Second Amendment," said Don Gatchell. "Which say, 'the people's right to bear arms shall not be infringed.' He's not going to let anything through there."
Only a couple of supporters of the resolution in attendance spoke. Mike Johnson said the big push behind the passage of the resolution is to send a message to Governor Mike DeWine that a new proposed "red flag" law is not supported by many.
A "red flag" law is a gun control law that permits police or family members to petition a state court to order the temporary removal of firearms from a person who may present a danger to others or themselves. Right now, such a law has not been put up for a vote in Ohio, however, one is proposed by the Governor. It stems from last year's deadly massacre in Dayton where nine people were shot dead outside of a nightclub.
"We are guaranteed due process under the law, and it's against the law for someone to come to my house and take my property unless I have due process in a court of law. That's why we want [the] Second Amendment [resolution]. We want to show that to DeWine that we're not going to take this, because that law, I feel, is unconstitutional," Johnson said to the crowded room.
During one point of the meeting, things got tense between Johnson and local pastor Terry Williams.
"There's not a gun problem in this country. And, I think the reverend here would agree with me that we have a moral problem," Johnson said before placing his hand on Williams' shoulder.
Williams, head preacher at Orchard Hill Church of Christ, is opposed to the resolution.
"No, I don't agree with you," the reverend said. "Please do not put your hand on me, sir."
Retired teacher Kathleen Burgess pointed out that some regulation is good for the betterment of society's overall safety.
"In order to vote, citizens must prove our age and residence. In order to drive a car, we must prove age, residence, and demonstrate an understanding of traffic laws and driving competencies," she told the three commissioners. "We have freedom of speech, but we cannot legally threaten others with harm or shout fire in a crowded theater. Likewise, the Second Amendment requires sensible regulation in order to preserve our right to life. It would be irresponsible to declare we are not bound by laws of this state and nation….Ross County officials must continue to foster respect for law and order….do not endorse that we believe we are above the law."
Ross County Auditor Tom Spetnagel — who took over recently as the county's chairman for the Democratic Party — echoed the same sentiment when he spoke.
"When we become an elected official we take an oath to uphold the law, so any suggestion that we do not follow any laws, whether they're laws we like or dislike, it's problematic to me," said the man who controls the county's checkbook. "I have an issue with the County Commissioners making a statement that they're not going to follow certain laws. "
No decision was made Monday night to sign the proposed resolution. If passed, the resolution does nothing more but state an opinion by three men. The commissioners, made up of Doug Corcoran, Steve Neal, and Dwight Garrett thanked those who spoke and said they would take the matter under advisement.