CHILLICOTHE, Ohio — In partnership with Scioto Valley Guardian and OhioHealth, the American Red Cross is holding two blood drives in honor of Sergeant Eric Kocheran. The Ross County Sheriff's Deputy is being treated at Grant Medical Center in Columbus after suffering a gunshot wound to the chest.
All blood types are requested. Walk-ins are welcomed.
"Sergeant Kocheran is receiving the best care in the state by being with us at Grant Medical Center, and we are happy to continue to help in any way we can," said OhioHealth spokeswoman Teratia Welch. "We encourage all members of the community, as well as employees from OhioHealth and other medical facilities to take time and donate blood this week."
The blood drives in honor of Eric Kocheran will be held at the Red Cross South Central Ohio Chapter office at 181 N. Bridge Street in Chillicothe on Monday, November 21 from 1 p.m. to 6 p.m. and the Friday after Thanksgiving, November 25 from 11 a.m. to 5 p.m.
In partnership with local crafter Tina Detty, the Guardian will be giving away a limited number of shirts to donors for their participation.
Appointments for the drives are filled up but walk-ins are welcomed. To see the official listing of the drives for Sergeant Kocheran go to redcrossblood.org and use zip code 45601 to identify the Chillicothe blood drives.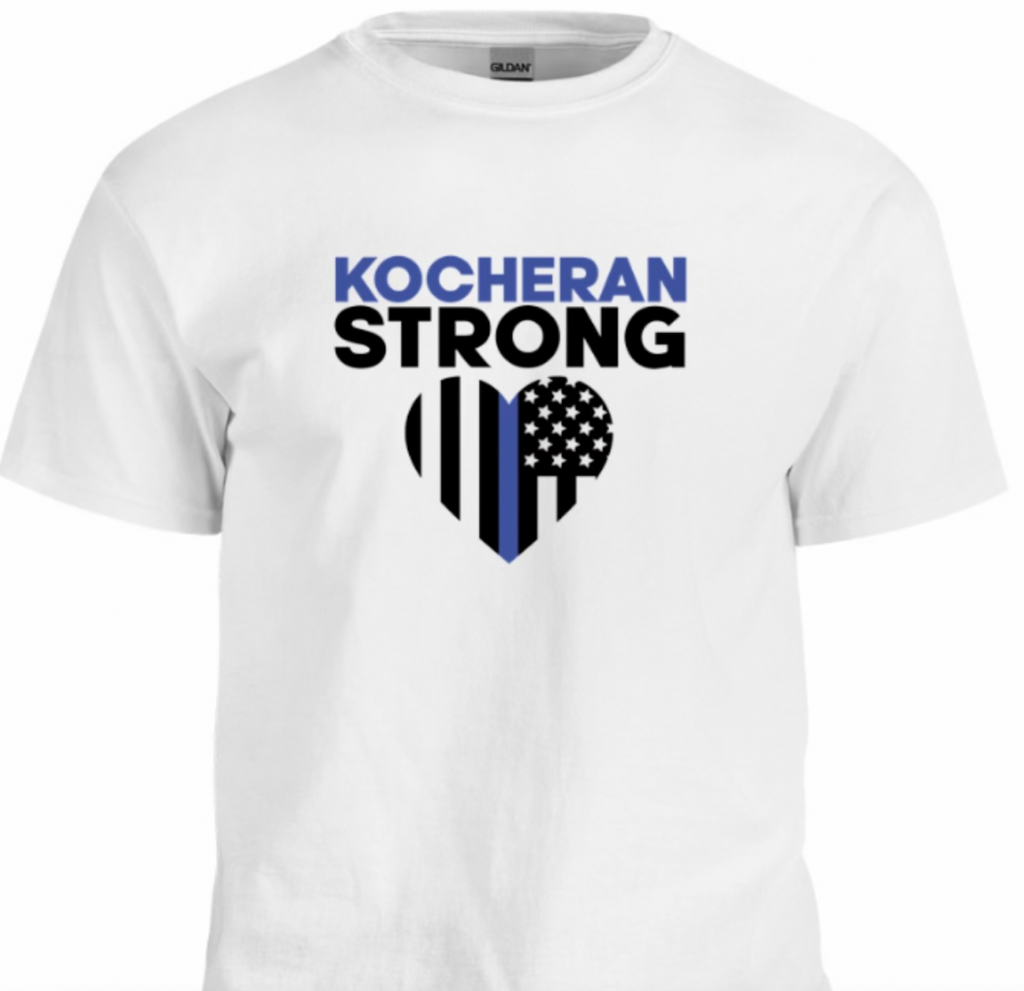 "One of the best things about living in a small community is that the people as a whole come together when tragedy strikes," said the Guardian's editor-in-chief, Derek Myers. "Sergeant Kocheran has served our community as a deputy sheriff and volunteer firefighter and now it is our turn to step up and help him."
"We routinely have blood drives in Ross County, and we stand ready to help collect blood in the name of Sergeant Kocheran," said Wendy Yarbrough, the Regional Executive of Donor Services for the American Red Cross Central and Southern Ohio Region. "It takes 500 donors a day to supply blood to the hospitals in our area."
For those outside of Ross County, blood donations in honor of Sgt. Kocheran can be made at any Red Cross blood drive in the state. Simply go to redcrossblood.org and type in your zip code to find a blood drive most convenient for you. American Red Cross is the largest single supplier of blood and blood products in the United States, collecting and processing approximately 40 percent of the blood and distributing it to about 2,500 hospitals nationwide. Providing lifesaving blood and blood products to patients is a key component of the Red Cross mission to help people in times of emergency and disasters.  It's the blood products on the shelves that help save lives when emergencies occur, which is why it's important to keep a steady stream of blood donations, so the shelves are full of lifesaving blood when needed.