SCIOTO COUNTY, Ohio — Former Portsmouth councilman and attorney Michael Mearan has died.
According to reports, Michael Mearan was transported to the hospital Thursday after suffering from what sources say was a cardiac incident.
Officials have not released his official cause of death at this time.
Ohio Attorney General Dave Yost said in a tweet, "At least he died publicly charged for his crimes, and his victims knew the dignity of being heard and believed. They have survived him."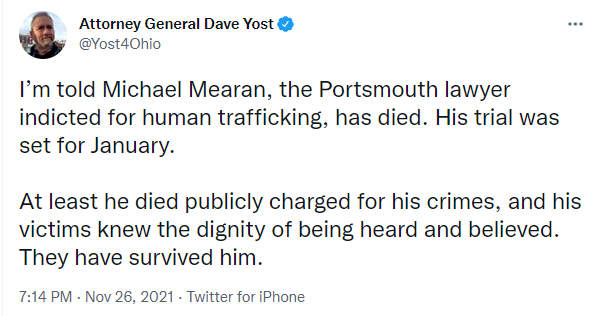 Mearan had been under indictment on over a dozen felony charges related to a human trafficking operation. Investigators say his crimes spanned more than 15 years.
BCI and other law enforcement agencies raided his home office in the early hours of March 25th. Shortly after, BCI (Bureau of Criminal Investigations) began asking anyone who may have been a victim of Mearan's or who might have information about suspicious activities to come forward.
Mearan was facing the possibility of spending the rest of his life behind bars.
According to court records, Mearan's trial had been scheduled for January of 2022.