PORTLAND, Oregon — In April, OneTouchPoint, Inc. learned of an attack on its systems. The company provides printing and mailing services to providers and health insurance companies across the nation.
OTP officials said, "On April 28, 2022, OTP discovered encrypted files on certain computer systems. Our investigation determined that there was an unauthorized access to certain OTP servers beginning on April 27, 2022. On June 1, 2022, we learned that we would be unable to determine what specific files the unauthorized actor viewed within the OTP network. We provided a summary of the investigation to our customers beginning on June 3, 2022. OTP later determined that the impacted systems contained certain information related to individuals provided by our customers. While we are unable to say definitively what personal information was accessed by the unauthorized actor, OTP worked with our customers to determine what personal information related to individuals was stored on the OTP network, to whom that information was related, and offered to mail letters to potentially impacted individuals on behalf of these customers. OTP has seen no evidence of misuse of any information related to this incident."
CareSource, an Ohio Medicaid provider, said in a statement that addresses, member IDs, and health conditions were among the personal details that could have been exposed during the attack.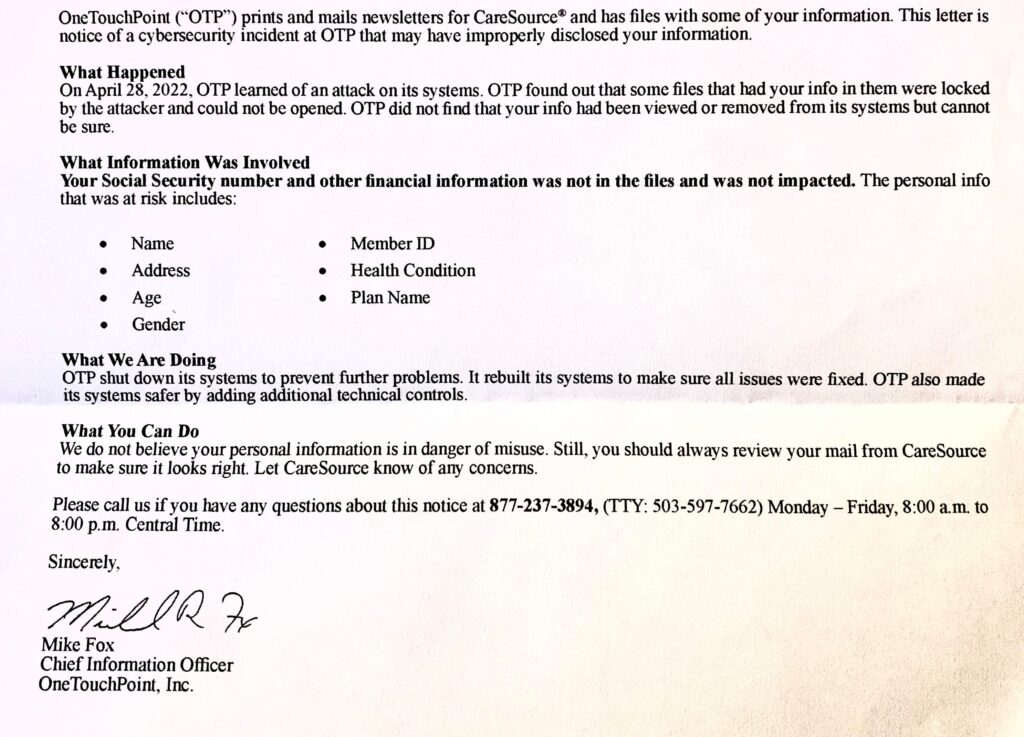 Mike Fox, Chief Information Officer for OTP said, "OTP shut down its systems to prevent further problems. It rebuilt its systems to make sure all issues were fixed."
Anyone with concerns or questions about the cyber-attack and their personal information can call 877-237-3894.
Companies affected by the data breach:
Anthem Affiliated Covered Entities
Common Ground Healthcare Cooperative
Banner Medicare Advantage Dual
Blue Cross Blue Shield of Arizona
MediSun, Inc. d/b/a Blue Cross Blue Shield of Arizona Advantage
Health Choice Arizona, Inc
Blue Cross Blue Shield of Massachusetts
Blue Cross Blue Shield of Rhode Island
Blue Cross Blue Shield of South Carolina Commercial
BMC HealthNet Plan / Well Sense Health Plan
CareFirst Advantage
CareSource
Clover Health
Commonwealth Care Alliance
ElderPlan/HomeFirst
EmblemHealth Plan, Inc.
Florida Blue
Geisinger
Health Alliance Plan of Michigan
HAP Midwest Health Plan
Health First
Health New England
Health Plan of San Mateo
HealthPartners
Highmark Health
Humana
Kaiser Permanente
KS Plan Administrators, LLC
MVP Health Care
Pacific Source
Premera Blue Cross Medicare Advantage Plans
Prime Time Health Plan
Point32Health
Regence BlueCross BlueShield of Oregon
Regence BlueCross BlueShield of Utah
Regence BlueShield
Regence BlueShield of Idaho, Inc.
UPMC Health Plan
Matrix Medical Network