SCIOTO COUNTY, Ohio — A West Portsmouth man was indicted this week and charged with several serious felonies. 
According to the Scioto County Prosecutor's Office, 51-year-old Mark Hall faces 3 counts of aggravated menacing, kidnapping, abduction, domestic violence, 2 counts of obstructing official business, having weapons while under disability, and using weapons while intoxicated.
It all stems from an incident on October 28. Reports at the time said the Scioto County Sheriff's Office received a call about a male subject at 67 Cave Lick Road in West Portsmouth, Ohio who was preventing his mother from leaving. The caller also reported that the male had a gun. When deputies arrived on the scene, the male retreated into the residence and grabbed a revolver, threatening to shoot the deputies.
Additional deputies and supervisors were called to the scene, and negotiation with the suspect ensued for approximately four hours. The Portsmouth Police Department SWAT Team was also called to assist, comprising personnel from the Portsmouth Police, Scioto County Sheriff's Office, and Portsmouth Fire Department.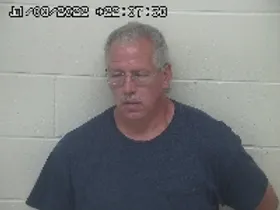 Despite attempts to negotiate with the suspect and use gas to force him out, the SWAT team eventually entered the residence and took the suspect into custody at around 12:24 a.m. He was transported to Southern Ohio Medical Center for treatment of a self-inflicted gunshot wound to the chest and later transferred to Grant Medical Center in Columbus.
If convicted, Hall could spend the next several decades behind bars.