CHILLICOTHE, Ohio — A massage parlor in Chillicothe was raided by law enforcement after an investigation into prostitution, human trafficking, and money laundering.
Lucky Asian Bodywork, 1532 North Bridge Street, is closed after Chillicothe Police converged on the building on Tuesday. In public records obtained by the Guardian, women who were working the spa would offer "masturbation at the end of their massages for money." The parlor was owned by an Asian woman who employed at least two other Asian women to perform the sexual acts, detectives said.
The investigation was opened after a police department near Cincinnati was investigating an illegal massage parlor in their area for the same crimes, which led to the discovery of a possible operation in Chillicothe.
"These similarly situated businesses have traditionally originated from China," read a search warrant by Chillicothe Police (CPD). "The knowledge of previously investigated and prosecuted cases in central Ohio have revealed Chinese victims have immigrated to the United States, generally to Flushing, New York with a debt to pay off for assistance in their immigration process."
Detectives said that the women — who are being labeled as human trafficking victims — are transported to various places around the United States and are required to work off a monetary debt in the massage business and are forced to provide illicit sexual services for money.
It's unknown if the two women who were inside the business when it was raided were given resources to help them escape their alleged slavery. A message has been left by the Guardian with CPD for more information.
Detectives with the Chillicothe Police Department worked in conjunction with the Circleville Police Department, Ohio's BCI, and the state Medical Board during the investigation, which lasted nearly six months. Dozens of people, all of whom were men except for one woman, were seen coming and going from the business. Many of them were pulled over by police after they left and admitted to paying for sex from the spa, records state. The men traveled from all surrounding counties, including Franklin, Jackson, and Vinton counties, and as far away as the Commonwealth of Kentucky. Police said that most of the men found out about the business on adult websites that promote sexual services.
"They stated after their legitimate massage the employee would …. touch their genital area and ask them if they wanted masturbation for a tip," detectives said. "They stated the employee would masturbate them to the point of ejaculation, then clean the customer with a towel …. All patrons stated there were Asian females working the parlor."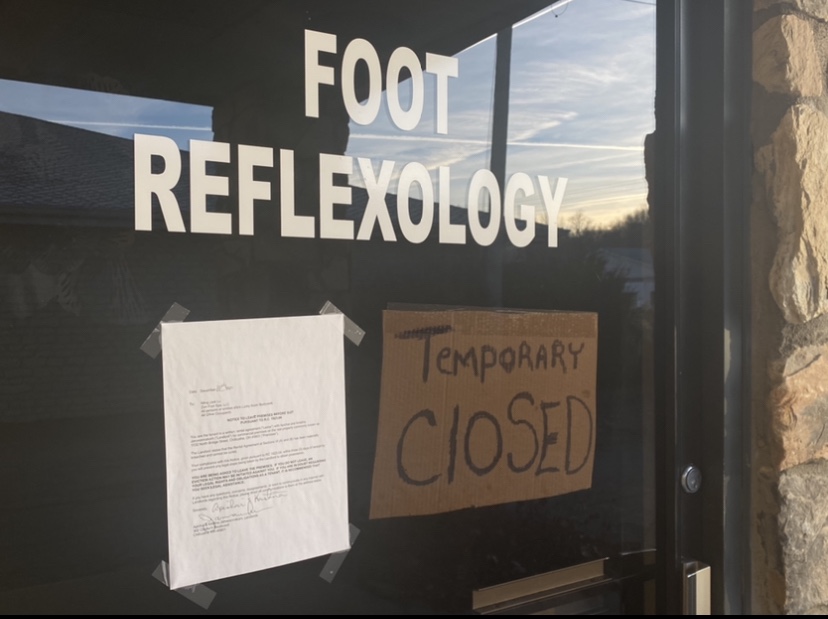 Detectives conducted covert surveillance on the business for three days straight, and during that time, the women who were working inside never left the building and appeared to be living there, they said. On Monday, an eviction sign was on the door from the landlords telling the spa owners that they violated their lease and needed to leave. Also on the front door was a cardboard sign that read: "temporary closed" [sic] in black marker.
Police officers seized several electronics, towels with DNA, books, ledgers, and nearly $20,000 in cash.
No one was arrested, but indictments will be presented to the county prosecutor for charges once evidence is reviewed, law enforcement said.
If you or someone you know is a victim of human trafficking, or you see something that you think might be illegal, you can call (888) 373-7888, text HELP to BEFREE (233733), email [email protected]