CHILLICOTHE, Ohio — A missing Ross County teen was found safe yesterday evening.  
According to local law enforcement officials, around 5 p.m. Wednesday, officers with the Chillicothe Police Department were dispatched to the area of Old Eastern Avenue for a missing teen.  
Reports say officers spoke with the girl's father, who said his 14-year-old daughter had not come home from school. The man told police that his daughter messaged him on Facebook at 4:47 p.m., and the message read, "Dad, ur daughters gone" with a broken heart emoji at the end of the message. 
Later in the day, officers asked the public for help in locating the girl.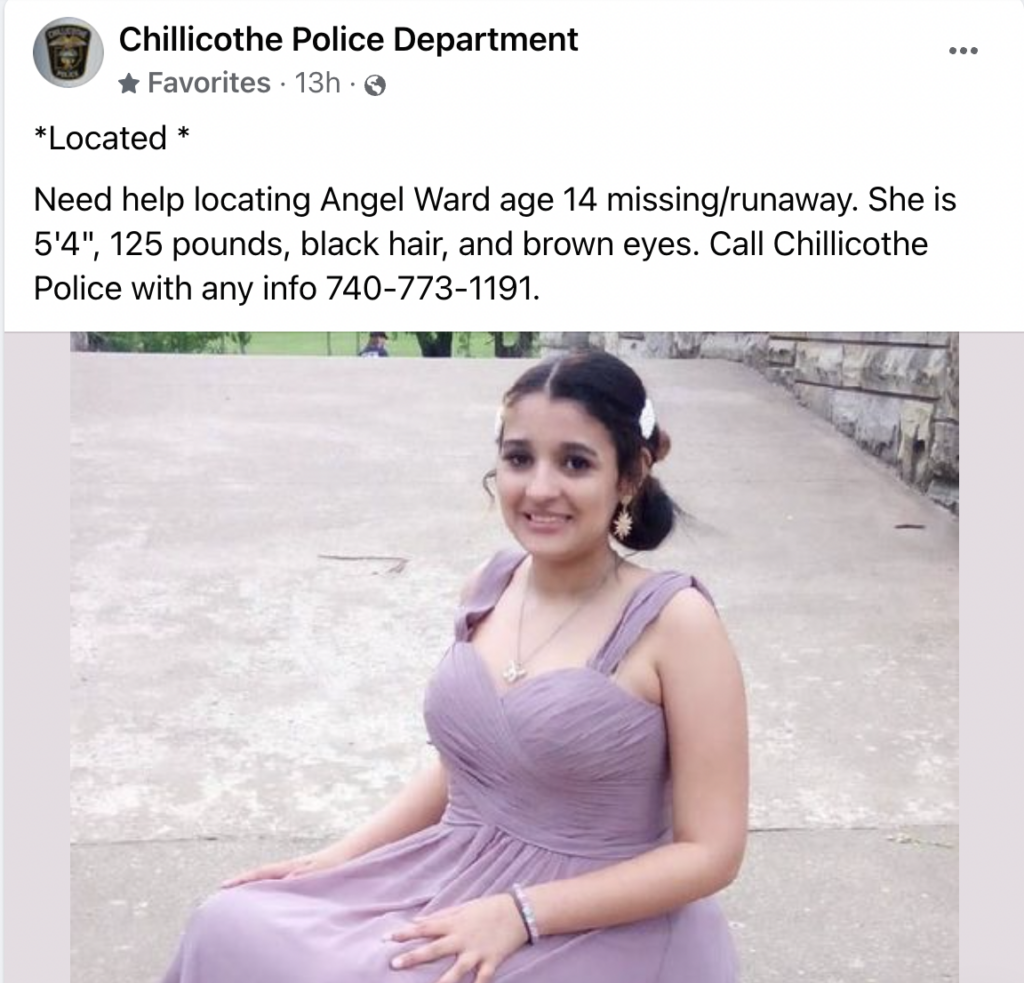 The Chillicothe Police Department said they attempted to locate the missing teen by using her cell phone to help triangulate her last location. Officers say her cell phone was pinging around South Paint St. and East 4th St. at 4:30 p.m. 
Deputies with the Ross County Sheriff's Office joined in the search for the girl, who the family said was possibly suicidal. The Sheriff's Office said that their deputies attempted to speak with known associates of the girl in the Kingston area.
Officers with the police department continued searching for leads to the girl's whereabouts. Reports say that officers responded to the 200 block of South Hickory Street in Chillicothe after receiving information that the girl was at a friend's house. The girl was not located at that residence.
Yesterday evening, law enforcement descended upon the area of the Bridge Street Bridge after the missing girl's father said he received a text from the teen who stated she was going to jump off the bridge into the Scioto River.
Aviation units from the Ohio Highway Patrol were requested as well as Water Rescue Crews to the Bridge Street area. Officials say while they were conducting a search along Bridge Street, dispatchers received a ping from the teen's cell phone in the 1000 block of Cooks Hill Road.
Officers with the Chillicothe Police Department and deputies with the Sheriff's Office responded to the area and located the missing girl running through a yard.  
Deputies spoke with the girl, who said she was going to jump off the bridge, but an unnamed friend talked her down from doing it. 
The teen was transported to Adena Regional Medical Center for a mental health evaluation.
If you or anyone you know is having thoughts of suicide, there is help. Contact the national suicide prevention hotline by calling 988, or reach out to your nearest crisis center.