CHILLICOTHE, Ohio — The Ross County Sheriff's Office has released surveillance and bodycam footage of the shooting that has left one deputy fighting for his life.
The video shows the suspect, identified as 42-year-old Nicholas Mitchell, walking from West Second Street to the parking lot of the Sheriff's office and approach the back door of the Ross County Law Complex.  
Mitchell can be seen knocking on the window of the back of the Sheriff's office. He waits a few seconds before Ross County Sheriff Sergeant Eric Kocheran opens the door and begins talking to him. Mitchell told Kocheran that someone was threatening to hurt Mitchell's family and that they want him to hurt kids. Mitchell went on to say "that he could not do it and instead had to do this."
The video shows Mitchell reaching into his pocket, pulling out a handgun, and opening fire on Kocheran. The sergeant retreats inside the building while exchanging gunfire with the shooter, who is shown falling to the ground.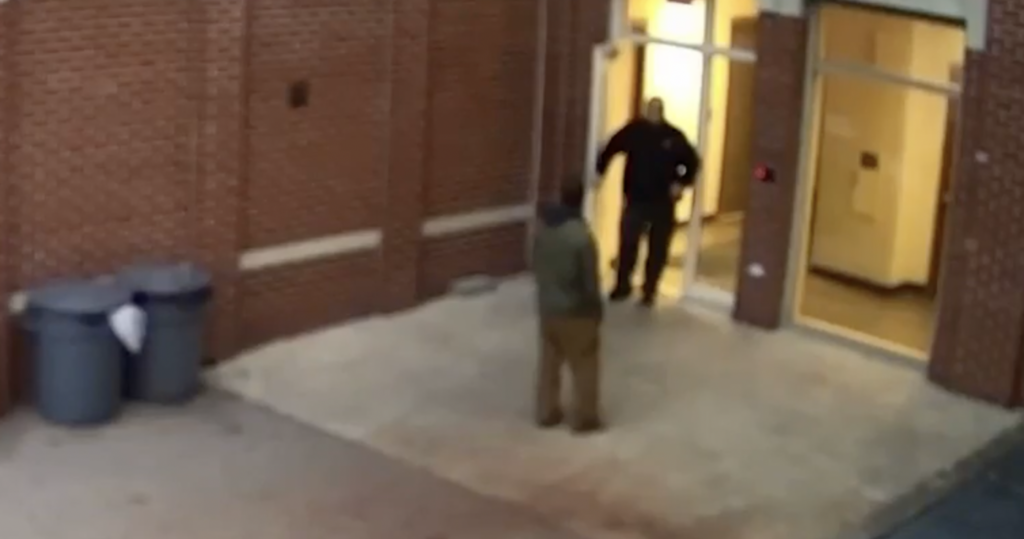 The sergeant was hit once in the chest but managed to shoot the suspect three times, downing the man and saving the deputy's life and others in the area. He pleaded with the shooter to drop the gun before he was forced to defend himself.
Shortly after the firefight officers were dispatched to the rear parking lot of the law complex after receiving a radio call of an officer down around 5:22 p.m.
Police said the suspect, approached Kocheran and said that he needed police assistance and that people were out to kill his family, before opening fire on the deputy. Kocheran was shot once and then returned fire, shooting the suspect.
Officials with the police department stated that a semi-automatic handgun was found underneath Mitchell.
Kocheran and the suspected shooter were transported to Adena Regional Medical Center. Two medical helicopters were requested to transport them to Grant Medical Center in Columbus. Mitchell later succumbed to his injuries at Adena. Kocheran was airlifted to Columbus, where he remains in critical condition, heavily sedated, and undergoing multiple surgeries, family members said.