PIKE COUNTY, Ohio — A former Piketon Police Officer who was recently indicted in Pike County for theft in office, and personating an officer also faces charges in Franklin County for theft, passing bad checks, and possession of criminal tools.
In December, the Guardian reported on the indictment of Cassandra Meinert. According to court records, the allegations against Meinert in Pike County include committing theft while working as a police officer, as well as personating a peace officer in order to commit theft on several occasions after being fired from Piketon PD. Meinert pleaded not guilty to the charges and was released on her own recognizance with a pretrial hearing scheduled.
The Guardian has learned that before being employed with the Piketon Police Department, Meinert worked as a police officer for multiple departments across central and southern Ohio. It was in the early part of 2022 when an investigation began in Franklin County. Meinert would subsequently be indicted on October 18, 2022. The same day she was terminated from the Piketon Police Department.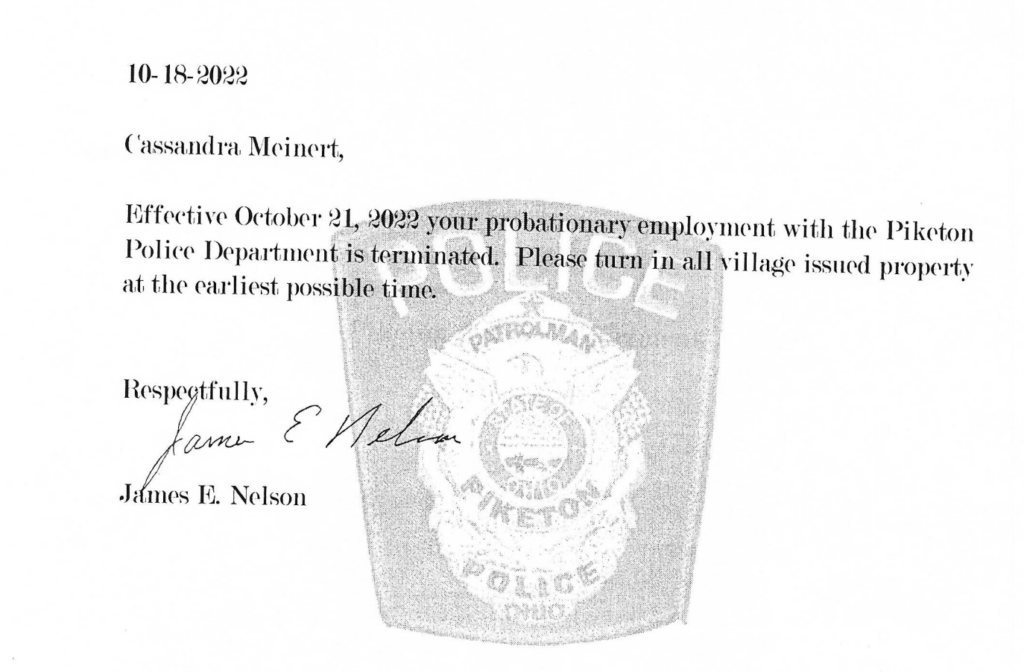 According to her employment file, Meinert was reprimanded multiple times for violating department policy during her stint with the Piketon PD. On 10/3/2022, Meinert was reprimanded for running her lights and siren to a call regarding a smoke alarm and then running them while traveling back to the police department. Then again, on 10/9/2022, records show while transporting two arrestees, Meinhert ran with lights and sirens to the Pike County Sheriff's Office. The Ohio Administrative Code, Rule 3335-21-12 states, "The driver of an authorized emergency vehicle or public safety vehicle, when responding to an emergency call, or when in the pursuit of an actual or suspected violator of the law, or when responding to but not upon returning from a fire or other emergency alarm, may exercise the privileges outlined in this regulation." On 10/19/ 2022, Meinert, the department said, failed to write reports for multiple cases, including two arrests. 
Authorities have questioned her pattern of conduct over the past several years.
Meinert previously faced felony charges in Ross County. In 2018, she was indicted by a grand jury for forgery and passing bad checks. She was given intervention in lieu of conviction. According to her employment application with the Piketon Police Department, Meinert was employed as a part-time police officer with the South Zanesville Police Department during that time period.
She is expected to return to a Pike County courtroom in February for a pre-trial conference. No court schedule has been released for her pending case in Franklin County. 
Cassandra Meinert has pled not guilty in all current criminal cases.