CHILLICOTHE, Ohio — Thieves once again target a local car dealership in Chillicothe. Officers with the Chillicothe Police Department were dispatched to the Herrnstein Automotive Group at 138 Marietta Road on a theft report. 
Upon arrival, reports say officers were notified by an employee of 7 rear spare tires stolen from 7 Jeeps in the car lot.
The dealership said that surveillance video captured the suspect in the act.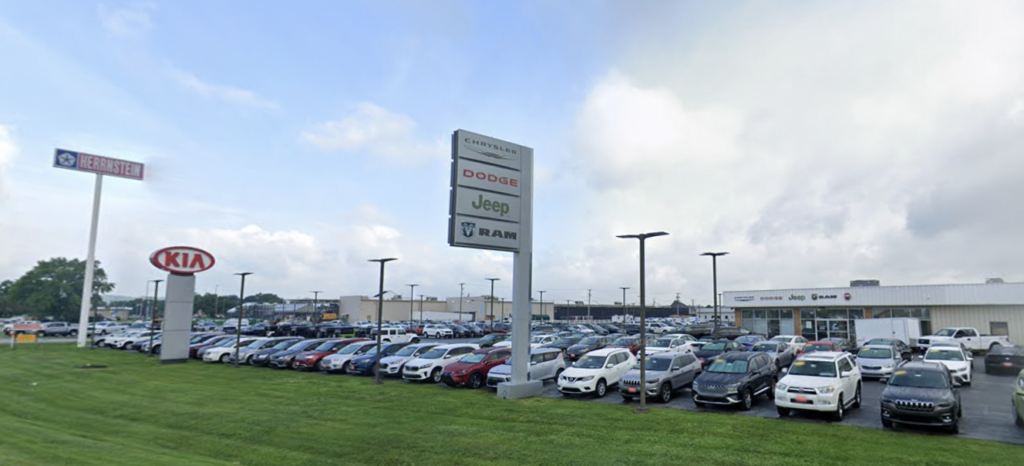 One officer, in their report, said, "I was able to review video with (employee) which showed an older model black Chevy Silverado 1500 with after-market rims and tires pull into the lot with no visible license plate on either the front or the back. The vehicle did have a silver tow hitch on the rear. Vehicle pulls around the lot and an unknown white male wearing facial covering, blue jeans, gray hoodie/zip up and dark-colored jacket gets out from the driver's seat. Male walks to several vehicles in the back lot before driving back to the front lot. Vehicle pulls in front of one of the security cameras which clearly showed a white female (possible brown hair) in the front passenger seat and appeared to have a baby carrier in the middle back seat."
The speed at which the thefts occurred let investigators believe the suspect used an impact wrench to quickly remove the tires from the vehicles. 
The items stolen include (3) Michellin 245/75/17. (1) Bridgestone 255/70/18. (1) Bridgestone 245/75/17. (1) Firestone 255/75/17. (1) Falken Wildpeak 37×13.50R20. 
Anyone with information on the case should contact the Chillicothe Police Department. Employees say the thefts occurred in the early morning hours on Friday, January 20.
Thefts at the dealership are nothing new. In January of 2022, thieves stole four dodge chargers from the dealership in what seemed like a scene from the movie "Gone in 60 Seconds." Three of the stolen vehicles were recovered in the Columbus area.