COLUMBUS, Ohio — White Castle is ready for Valentine's Day with new merchandise and the return of its Valentine's Day in-Castle dinner experience.  
According to the fast-food chain, individuals can go to White Castle's online store, House of Crave, to purchase the holiday-themed items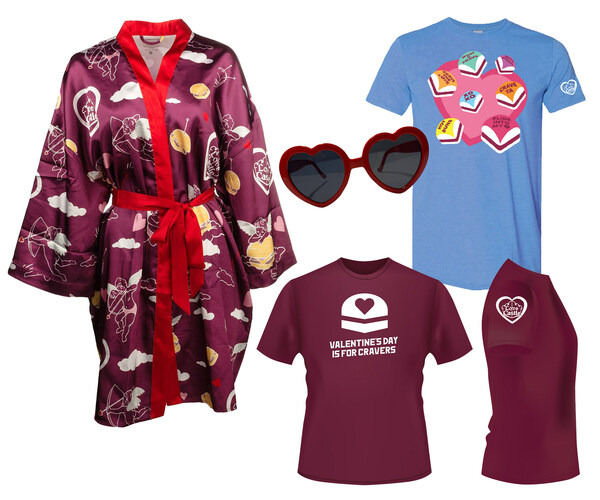 New items, the company said, include:
Love Castle robe: This soft-to-touch purple robe featuring a red belt is perfect for lounging and relaxation on Valentine's Day (and on the other 364 days of the year).
Love Castle sunglasses: These heart-shaped glasses are the perfect accessory piece for your date-night attire.
"Cravers are certainly passionate about White Castle and Valentine's Day, and these new items are the perfect way to celebrate both," said Jamie Richardson, vice president at White Castle. "Valentine's Day only comes around once a year, but you can spread the love all year long with a stylish tee-shirt, a cool pair of shades, and a luxurious Love Castle silky robe." 
A White Castle spokesperson also said that on Feb.14, customers can print out and give away White Castle-themed Valentine's cards to family, friends, classmates, and others at no cost. 
White Castle's Beloved Valentine's Day Dinner is back!
The Valentine's Day apparel comes alongside the return of White Castle's Valentine's Day in-Castle dinner experience.
The event on Feb. 14 from 4 to 9 p.m. at participating "White Castle restaurants transforms the dining room into fine dining establishments, complete with hostess seating, tableside service, and festive holiday décor."  
Reservations, according to a press release, are required, and with reservations expected to fill quickly, guests are encouraged to sign up early at OpenTable.com. Participating Castles can be found at WhiteCastle.com/locations (scroll down to "Celebrate Valentine's Day at the Castle!").
"Valentine's Day is the day when White Castle becomes Love Castle, and we can't wait to celebrate it in person in 2023," said Jamie Richardson, vice president at White Castle. "It's an opportunity to gather with those we love and savors the flavor of all the Castle has to offer, all in a festive atmosphere with affordable prices that won't bust anyone's budget. This is what feeding the souls is all about, and we're excited that the tradition we have loved and missed is back!" 
2023 marks the 32nd year that White Castle has observed Valentine's Day with a special celebration. The last in-person Valentine's Day dine-in experience in 2020 — just a few weeks before COVID shut everything down.