CHILLICOTHE, Ohio — Chillicothe City Schools are among nearly a dozen districts across the state who received an active shooter call leading to a large police response.
The Guardian reported on the massive law enforcement presence that descended upon Princeton High School in Sharonville, a suburb of Cincinnati, earlier today. Other law enforcement agencies around the state, including Dayton and Licking County, received phone calls regarding an active shooter at area schools.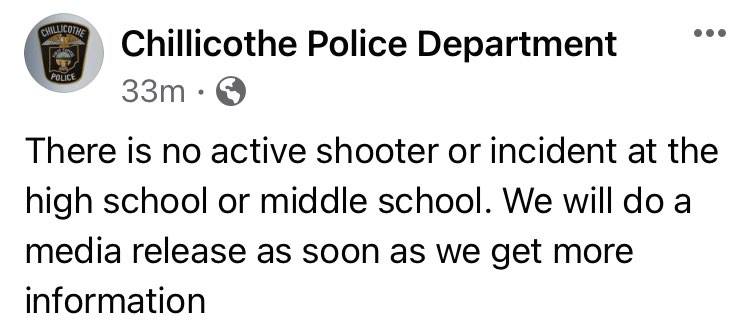 One such call was received today in Chillicothe around 3 p.m.
The Chillicothe Police Department and deputies with the Ross County Sheriff's Office responded to the High School. After a sweep of the facility, an all-clear was given.
No injuries have been reported in any of the incidents across Ohio today. One parent in Licking County was detained after they showed up at the Licking Valley High School with a loaded gun upon hearing the reports of a shooter on campus.
The Federal Bureau of Investigations is looking into this growing trend called swatting.
Swatting, according to federal law enforcement agents, is when an individual makes a call to police claiming an emergency is currently underway. These individuals will then give locations information causing a mass panic.
At the time of this publication, no arrests had been made. These calls remain under investigation.